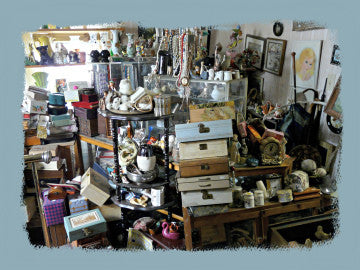 By Ada Harper
An Estate Sale is a way of selling off the belongings of a family or estate.  Most people associate estate sales with a death in the family, but there are many reasons to call on an estate sale services company.
Timing is Everything
A property changing hands between the family and a buyer can occur quickly. Perhaps finances are an issue and the funds collected from the contents of a sale as are needed as soon as possible.
In these scenarios, an estate planning company can quickly clean out and liquidate the home before a property is placed on the market.
On-Site Delight
Since an estate sale is conducted on the property itself, nothing needs to be moved or unpacked.  You won't need to rent a moving truck, buy boxes or risk transporting fragile items. Customers come to the property, purchase what they want, and take it with them thus leaving behind profit. If items don't sell, you can donate them to Goodwill, Habitat for Humanity or other non-profit organizations for a tax write-off.
Make It Easy For Yourself
You know you have worthwhile items to sell, but the number of items and tasks to deal with can be overwhelming.  You want to attract a crowd, but relying on friends and neighbors may not produce the results you hope for. Meanwhile, placing an ad in the paper will draw a few, but do you have other methods to ensure high attendance for your sale? Can you deal with people who like to haggle for the best price? What if you sold something for $10 and you later realized it was worth $1,000?
Estate sale companies have the expertise to maximize profits and takes the pressure off your shoulders. For example, they have an extensive list of hardcore shoppers and collectors waiting to attend estate sales. They love what they do and are willing to take on the many tasks required such as:
Cleaning

Pricing/Appraisals

Research on antiques

Inventories

Item Disposal
Doing an estate sale yourself can be difficult not only because of the tasks involved, but often because of the reasons behind the sales. Liquidating an estate due to moving, bankruptcy, death and divorce can take a significant toll on people.
Therefore, it takes a lot of emotional distance and a good eye to price things appropriately. When in doubt, don't leave it up to chance! Leave it to a professional.